Whitney Long & Cheri Leavy: Co-Founders of The Southern coterie (and so much more)
What an absolute treat I have for you all today in this partnership feature! It is my joy to bring you into the worlds of Whitney Long and Cheri Leavy. This empowering duo is the team behind one of the south's greatest resources and inspirational gatherings, The Southern C Summit.
The Southern Coterie developed out of a mutual love for the South and passion for the people and unique businesses that shape the region. In 2011, after achieving much success both personally and professionally in careers with local and national publications, Whitney and Cheri decided to bring their shared interests together and create The Southern Coterie. Designed to offer a community of passionate creatives and entrepreneurs the opportunity to connect, collaborate and create, the "Southern C" serves this audience through a daily online platform as well as live conferences, retreats and workshops throughout the year.
Both Cheri and Whitney are huge inspirations to me as multi-passionate, powerhouse creators of their worlds. Their lives are vibrant and rich with people, experiences, and collaborations.
When you're around them, you're truly inspired to lift others up because that's exactly what they do!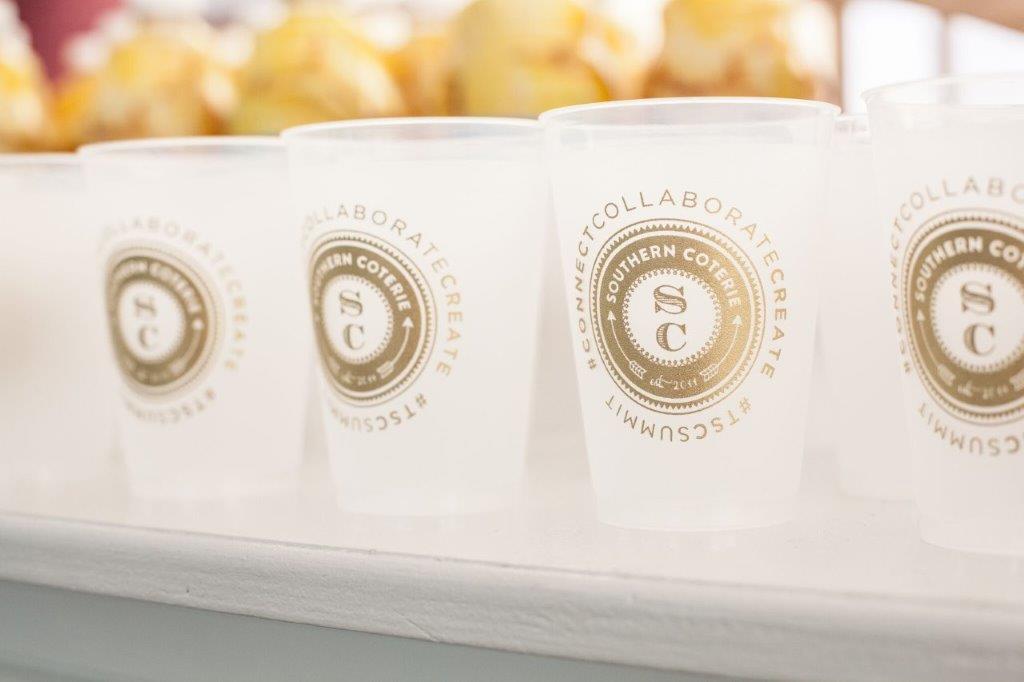 Co-Founders of The Southern Coterie and so much more
Collectively, it is their enthusiasm for entrepreneurism, their vast network of connections and their love of connecting that contributes to the success of The Southern Coterie and The Southern C Summit.
Meet Whitney | Co-Founder The Southern Coterie, Editorial Freelance + Content Creator
After a successful career as a scout, stylist and contributing editor for some of the biggest names in print media–like Coastal Living, Southern Accents, Southern Living, Better Homes & Gardens and various special interest titles–Whitney continues to draw on her years of curating unique places and people to create connections, find strategic partners and cultivate a talented team of writers and presenters. "Whitney has her finger on the pulse of the South, old and new, which makes her such a visionary for the network and at our events," says Cheri.
Born in the quintessential southern town of Elba, Alabama, Whitney, her husband and four children now call St. Simons Island, Georgia home. Collectively, it is their enthusiasm for entrepreneurism, their vast network of connections and their love of connecting that contributes to the success of The Southern Coterie and The Southern C Summit.
Rachel Camfield: What brings you to this part of your journey?
Whitney Long: My past! With the co-founding of TSC, I was able to create a business that successfully married my past and current work experience and skill set. After a career as a scout, stylist and contributing editor for print media titles including Coastal Living, Southern Accents, Southern Living and Better Homes & Gardens, plus various special interest titles, I took time off to focus on my family. With the Southern C, I jumped back into a field that offers a creative outlet and allows me to "scratch that itch" by engaging with lifestyle voices, brands and businesses and then introducing them to our Coterie followers and Summit attendees. It's been a lot of fun to see how my past work experiences are now intricately woven into my current work.
RC: What excites you most about your life, work, and legacy?
WL: Without a doubt, it's this powerful, supportive, transparent community we have built, not only through our online platform, but also at our live events. It's really hard to explain but once you have attended and experienced a Summit, you know the connections are special and authentic. That is when our tagline CONNECT, COLLABORATE, CREATE truly comes to life. There is magic in the air when you get a dynamic group of hard-working creative entrepreneurs together!
RC: What do you yearn to deliver in your professional experience?
WL: Passion for our community + a strong work ethic that equates to a memorable, value-filled, authentic experience. I want to deliver whether front and center or behind the scenes. Our followers and attendees make the investment with their time, money, or both, and we have set the bar high. It's not all glitz and glam when you are a small team and the hats we wear are many… if you saw me before a Summit kicks off, you would likely find me doing anything from hauling cases of water bottles into the venue, setting up centerpieces, notebooks and pens or stuffing hundreds of swag bags. But, as a biz owner, and as most of your readers will know first-hand no matter their niche, it's all in a day's work. When you are passionate about what you do and the people you do it for, it's worth the hard work!
*If you've been to a Summit, you will feel all of the above in every single detail!
RC: What's one of your most memorable moments on your journey?
WL: Every time we launch ticket sales, it's as if I have had another baby, so that is definitely memorable and exciting. 😊 After compiling the info, linking the payment system and finally, drum roll… switching the slider to "live", it's like a birth announcement to the world… a hold your breath kind of moment. But much like Cheri, I, too, for the same reasons, love the brunch… it's the cherry on top of each Summit!
RC: What does a lovely Saturday look like for you?
WL: Waking up and sneaking out before the four kiddos wake up for an early morning beach walk with the hubby at Sea Island. It's about the only time we have quiet in our very busy household so it's a great time to catch up or sometimes just walk silently and breathe in our surroundings. After that, I throw all the exercise I just did out the window because I love the breakfast buffet at Southern Tide! Hubby reads the newspaper and I read a magazine.
By the time we return, our house is fully awake and rocking and rolling. We start planning the next half of the day – if no scheduled activities/games/practices, we will head out on bikes for a late lunch somewhere easy like Southern Soul (strategically timed as to avoid the rush). Mid- afternoon would ideally find our whole family back at the beach until the sun sets.
*I am ready to move right in with this sweet family!
RC: If we played the last song you were listening to, what would it be?
WL: Bohemian Rhapsody in the car this morning on the way to take kids to school, singing out loud and being silly with them. Somehow, they know all the words! It's such an interesting song if you really listen to it and all the music styles and tempo changes. And this sparked some great conversation related to classic rock when they asked about some of my favorite songs from when I was there age. This then morphed into conversation about vinyl, 8-tracks and cd's – they think I am a dinosaur. 😊
RC: What's your favorite quote?
"There but for the grace of God, go I…"
WL: My mom always said this and it stuck with me. It floats through my consciousness many times a day and it truly helps in being reminded to have an attitude of gratitude.
RC: Where can we find you to connect?
Of course @thesouthernc and then personal account @whitneywiselong and my blog posts here.
Meet Cheri | Co-founder of The Southern Coterie, Editor of guide2athens and Creative Director of Bulldawg Illustrated
For Cheri, born with a knack for instantly connecting with people, The Southern C seemed like a natural progression. Cheri's enthusiasm and inspiration has made the Southern Coterie and its live events – the Southern C Summits – a must visit for entrepreneurs looking to make valuable connections. Constantly on the lookout for the newest talent, Cheri has an authentic passion for meeting, greeting and giving entrepreneurs a platform to speak about their brands. "Cheri is a big ball of energy and ideas. She may be small but she is mighty," says Whitney.
An eighth generation coastal Georgia native, Cheri splits her time between Athens and St. Simons Island. She also operates a successful online and print publishing business (Bulldawg Illustrated and guide2athens) with her husband.
Rachel: What excites you most about your life, work, and legacy?
Cheri Leavy: People! I love watching alumni of The Southern Coterie collaborating on ideas and growing their businesses together. Facilitating these connections brings me the greatest joy. Helping entrepreneurs, a business owner or a blogger, with strategies to find success is my mission in all my endeavors. Guide2athens also promotes independently owned businesses in Athens and it is the people behind those enterprises that I love to support and keep me excited about what I do. I am also lucky because I work with amazing women at The Southern C and they are just as driven as I am to support our community the best we can and to work daily on this passion project!
*Cheri is one of the best connectors I have ever met and witnessed in action!
RC: What do you yearn to deliver in your professional experience?
CL: Results! I want my marketing strategies to bring my clients results. I want to form a long- term relationship because my clients trust we are partnering to better their businesses together as a team. If you are in my communities (TSC + g2a + BI) then I am working non-stop to help tell your story to consumers and make connections for you that grow your business.
RC: What's one of your most memorable moments on your journey?
CL: I always love the brunch, the final event at the Summits, because attendees are so on fire and so inspired. It is truly touching, and Whitney and I always leave so moved by the sentiments of what attendees got out of their time together over the three days. We are humbled by the community we helped create and continue to foster. The Southern Coterie is beautiful and supportive and so very powerful in its spirit. Hope that doesn't sound corny!
*You are speaking my language :)
RC: What does a lovely Saturday look like for you?
CL: My favorite is a Saturday in Athens on gameday! My husband Vance and I love tailgating with friends before cheering on our beloved Bulldogs in Sanford Stadium. It's so fun to catch up with multi-generations of families from all over that gather in the fall for SEC rivalry match ups. After the game we stop by a few tailgates on the walk home to cook out with neighbors and watch more football. The part of those Saturdays that I don't like to think about is that we are on deadline to the printer on Sundays to publish the next issue of Bulldawg Illustrated. Ouch!
RC: If we played the last song you were listening to, what would it be?
CL: Tom Petty's Free Fallin' or Talking Heads' This Must be the Place.
RC: We'd love to hear your favorite quote!
To whom much is given, much is expected.
- Luke 12:48
RC: Where can we find and connect with you?
CL: I am an Instagram fan and you can join me at @cherileavy, @thesouthernc, @guide2athens, @wearebulldawgs.
Wow! A bright, big thank you to Cheri and Whitney for sharing this much insider information on one of the South's most popular entrepreneurial events! I love how they both share straight from the heart, and the best part is that when you meet them in person, you feel like you already know them. Thank you to this power duo!
Over to you:
Are you inspired to collaborate and create amazing things with others? Who comes to mind as someone with similar passions that you'd love to connect with? Have you been to The Southern C Summit - let me know what your experience was like in the comments below.